The area offers superb walking facilities for all types. A pleasant gentle stroll on a good surface can be had on the circuit path around Dove Stone reservoir (WALK 1) which is also suitable for wheelchairs and is only about 2.5 miles (4 km). For a longer walk, you could combine paths and include a circuit of Yeoman Hey reservoir (WALK 2) and to extend it, even more, follow the track to the confluence of Birchen & Holme Cloughs (WALK 3), this goes past Greenfield Reservoir and has a reasonable surface with a gentle climb. (WALK 4) is a steep but rewarding route up Chew Road to Chew Reservoir reservoir.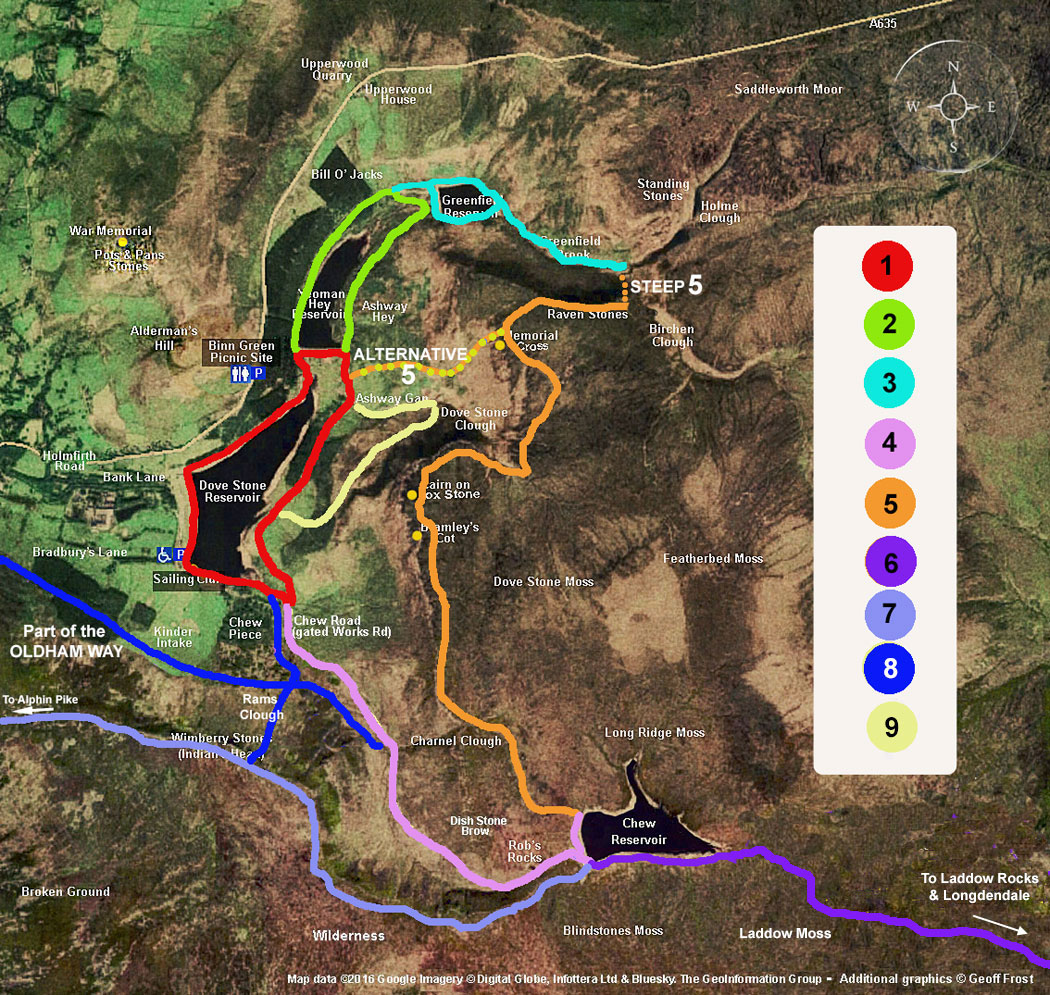 For those who like to take their walk further and have suitable clothing and equipment for the time of the year, there is a fabulous walk from Chew Reservoir. This follows the rugged edges above and past Charnel Rocks, Bramley's Cot, Fox Stone, Dove Stone quarry, Ashway Gap, Ashway Cross then to Raven Stones (WALK 5).  From here either make your way down the very steep hillside or retrace your steps to the Ashway area where the downhill slope is gentler. Most people will find this walk well within their capabilities and, by taking care, you don't have to be a hardened hill walker. The views from this walk are spectacular.
(WALK 6) follows the edge of Chew Reservoir then along a rough and wet moorland track to Laddow Rocks and even further into Longdendale. This walk should preferably be done by people with some hill-walking experience and suitable clothing, plus an OS Map of the area. Weather can change quickly and although this walk is not difficult if you stray from the moorland track it could be a matter of being lost.
(WALK 7)  starts at Chew Reservoir but follows the edge path along the other side of the valley, past Wilderness, where a snow avalanche in 1963 killed two local climbers, and past Wimberry Rocks (Indian's Head) all the way to the trig point at Alphin Pike if you want. Otherwise, you can make your way back to the lower ground by following the routes of (WALK 8), down a path at Rams Clough and down through Chew Piece plantation. This route also bisects the path at Ram's Clough and becomes part of the Oldham Way.
(WALK 9) traverses just below the Dove Stone quarry. Some of it requires clambering over a rocky section. Start at either Ashway Gap or up through the field and plantation from the Dove Stone Reservoir circuit path. This walk passes the tunnel exit at Ashway where a bridge crosses the watercourse.
These walks are all on the eastern side of the A635 but there are other walks on the western side up Alderman's Hill.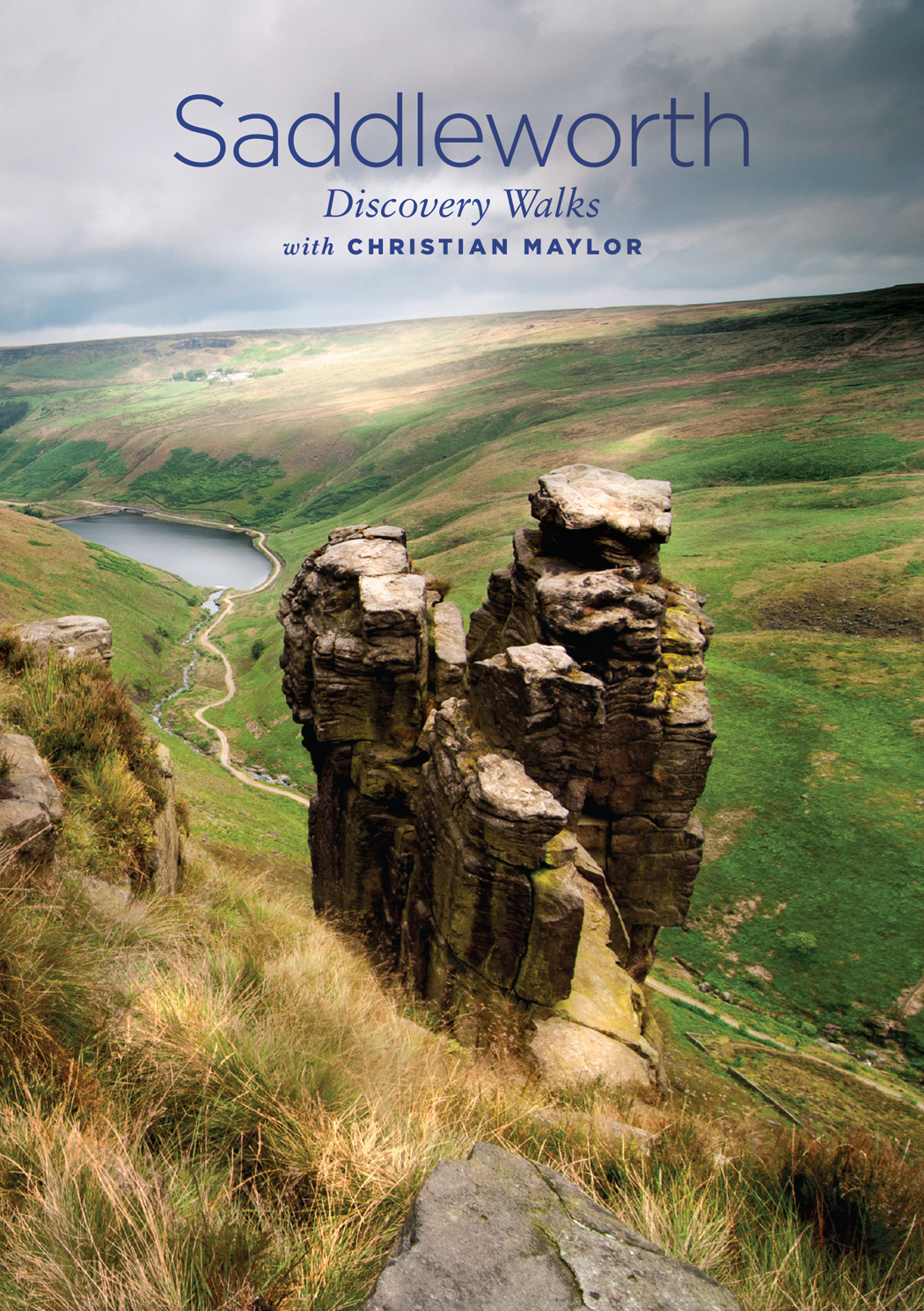 RECOMMENDED
Have a look at http://saddleworthdiscoverywalks.co.uk/ this site by Chris Maylor is full of information about Saddleworth, including walks and activities for around Dove Stone. You can also buy Saddleworth Discovery Walks (cover illustrated), go on guided walks, and learn about navigation – essential if you want to broaden your walks onto the high moorland areas.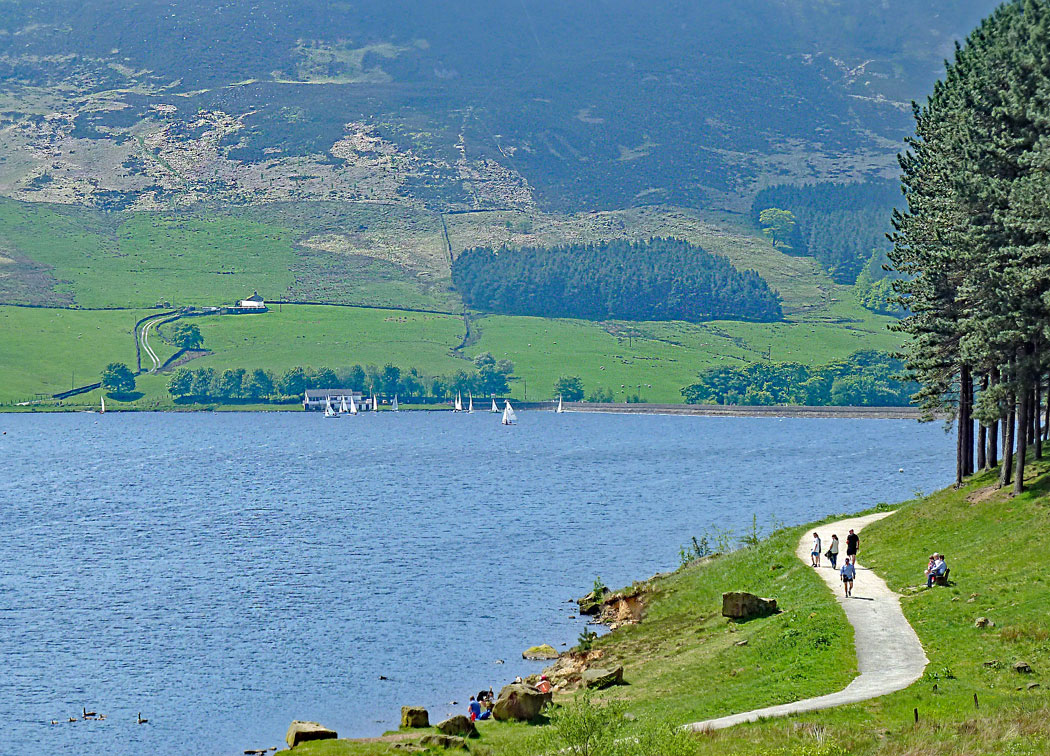 ACCESS TO THE MOORS
Since the Countryside and Rights of Way Act (2000) walkers now the right to walk at will on any of the moorland areas regardless whether they are privately owned. The only exceptions are when the moors are being used for shooting (for which prior notice must be given to cause an official closure), or when the moors are closed because of a high fire risk. Dogs must be on a lead during nesting time between 1st March to 31st July and under strict control outside these times. If you are thinking of walking on the moors you should be competent in hillcraft and map/compass (or personal sat nav)  techniques. The photo below shows what it is like when the mist comes down.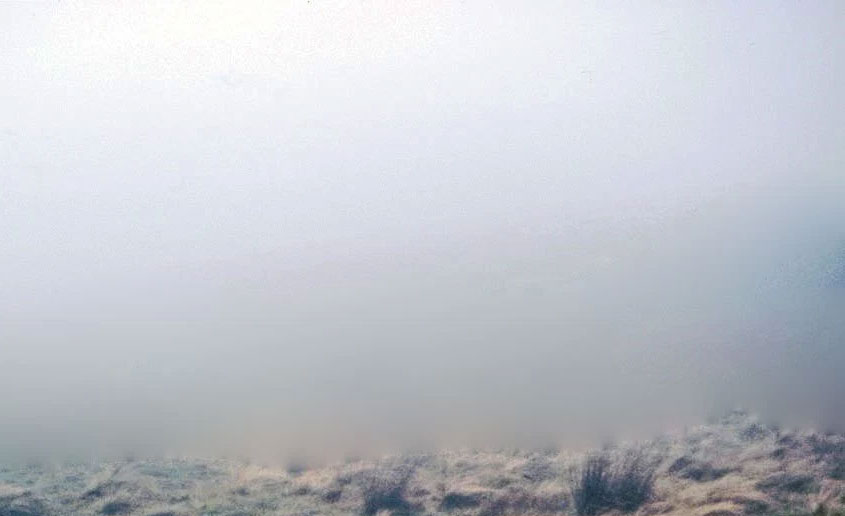 SNIPPET

At Edale Information Centre, an assistant was helping a teenage girl with selecting maps etc for a proposed walk of the Pennine Way. The assistant said she would also need a compass (and learn how to use it), but her money-conscious mother said, "Nonsense, she doesn't need a compass, it goes north all the way."
The video above, The Manchester Rambler by The Spinners, is appropriate to this area and actually shows some of Dove Stone – see if you can spot where? The lyrics are different from the version by Ewan MacColl who wrote the original Manchester Rambler at a time when there were considerable problems of access to the moorlands. Many of the moors used for grouse shooting, were guarded and strictly forbidden to the public. In 1932, a mass trespass was held at Hayfield and onto Kinder Scout moor, following which several ramblers were jailed. All this changed in 2004 with the Countryside and Rights of Way Bill (2000). The story of the conflict and access to the moors can easily be found on the Internet and makes interesting reading.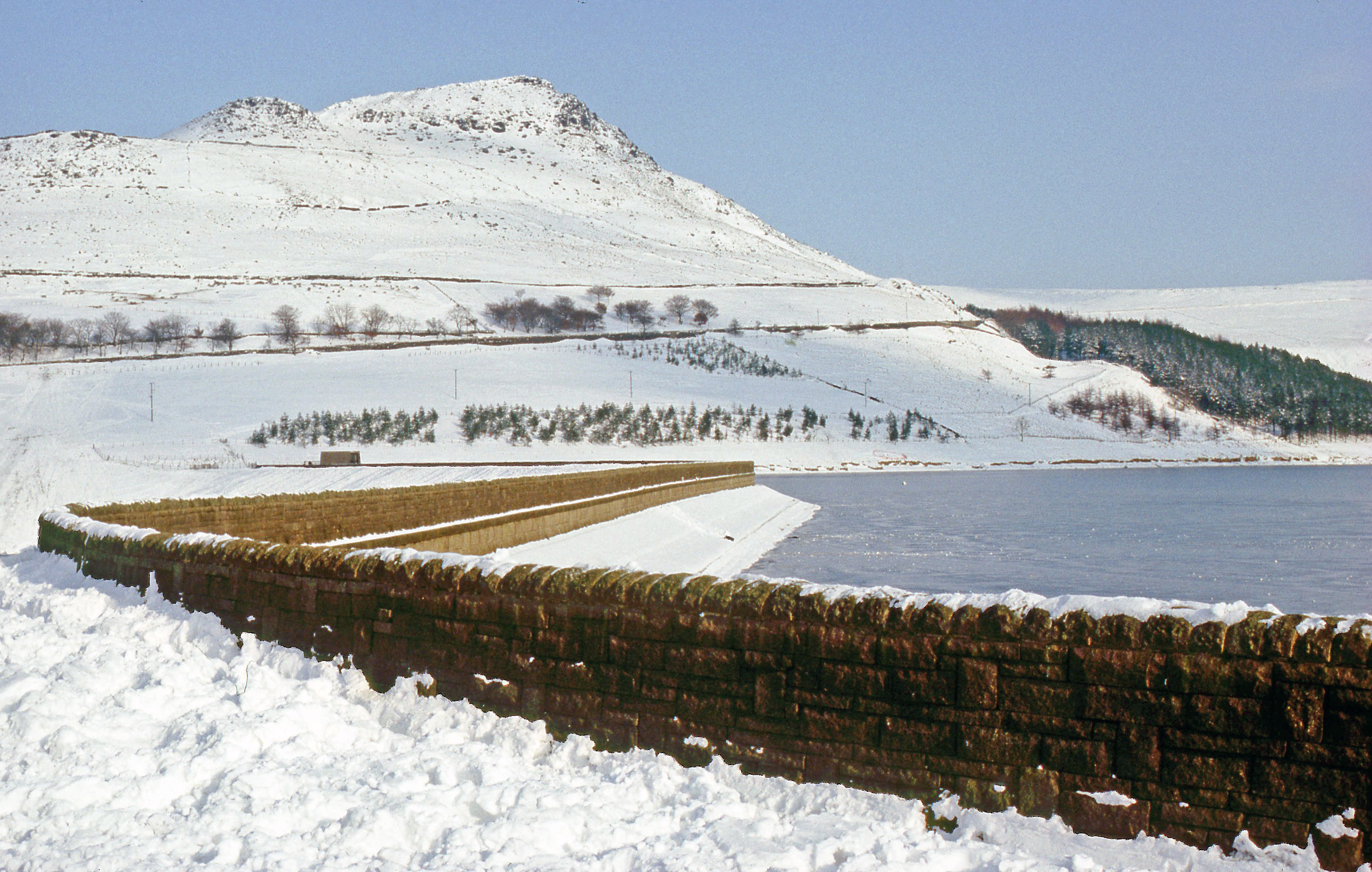 In the 1930s a certain Professor Joad, a leading campaigner for walkers' access to the hills and mountains had some inimitable quotes and being politically correct was not his forte. Here's what he thinks of groups of walkers:
"Of all ramblers who throng the roads, very few penetrate into the hills. Mercifully! If the parties are mixed, the girls giggle and throw themselves with rather more abandon than usual upon the males for protection from the 'wild'…  How well we know them, those small parties of climbers, toiling manfully up the steep slopes. I have just watched one of these parties ascending a steep hillside. The women are middle elderly and unattractive, plumpy podgy, or thin and stringy with large extremities and sharp bespectacled noses from the ends of which little drops of perspiration depend, falling every now and then to water the uncomplaining soil."
 A bit of a misogynist? Just a bit.