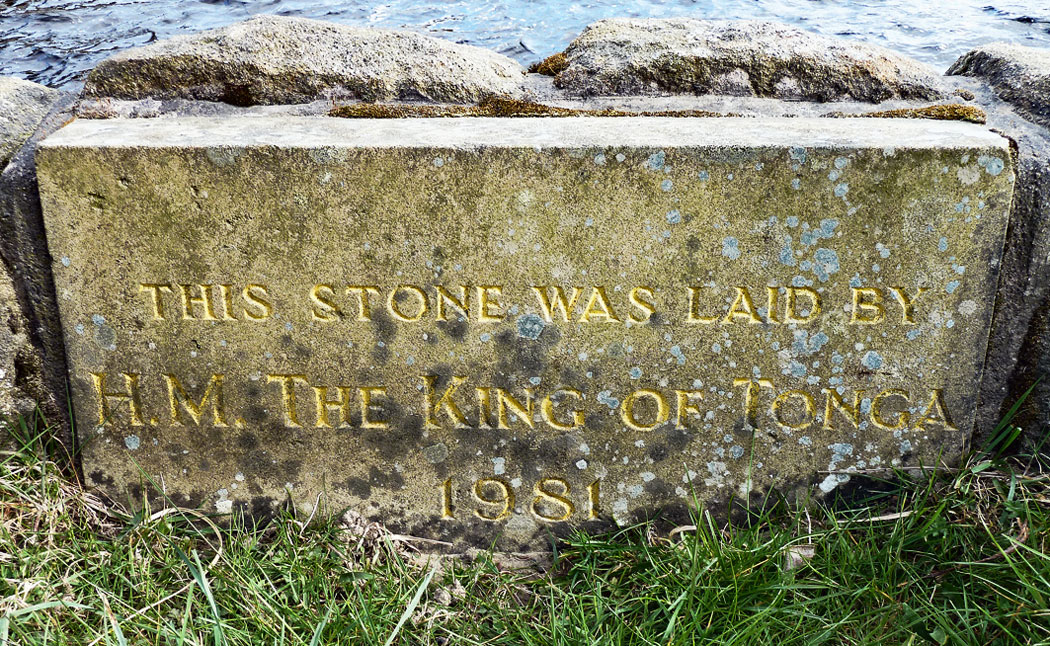 The King of Tonga stone can be found near the western corner of Yeoman Hey reservoir on the dam crossing (see LOCAL MAP) Now partly hidden by metal fencing it was laid (as the stone states) by the King of Tonga in 1981.  Some people might well think this is very odd for this area but the explanation is simple.
In 1980 – 1982 there was extensive reservoir safety works to Greenfield and Yeoman Hey reservoirs. This included constructing large emergency overflow channels at Yeoman Hey which you can see under the tag 1800s YEOMAN HEY RESERVOIR. The construction and civil engineering company George H Dew & Co Ltd. of Oldham who had recently completed work on the harbour in Tonga.
In 1981, the King of Tonga came to England for the Royal Wedding. While he was here, the construction company George H Dew invited the King of Tonga to visit Dovestones and lay a commemorative stone at Yeoman Hey above the concrete overflow (see below).  The King of Tonga stone is situated above and close to these works. The company, George H Dew finally ceased trading in 2006  after 72 years.