Dove Stone or Dovestone if you prefer, is situated at the northern end of the Peak District National Park as shown on the map. For detailed map directions please go to GOOGLE LOCATION MAP tag.
Postcode OL3 7NE.   Grid Reference: SE013036
Since 2010 it has been named by the RSPB as a Nature Reserve but it is also an extensive open area with other land owned and managed by different landowners.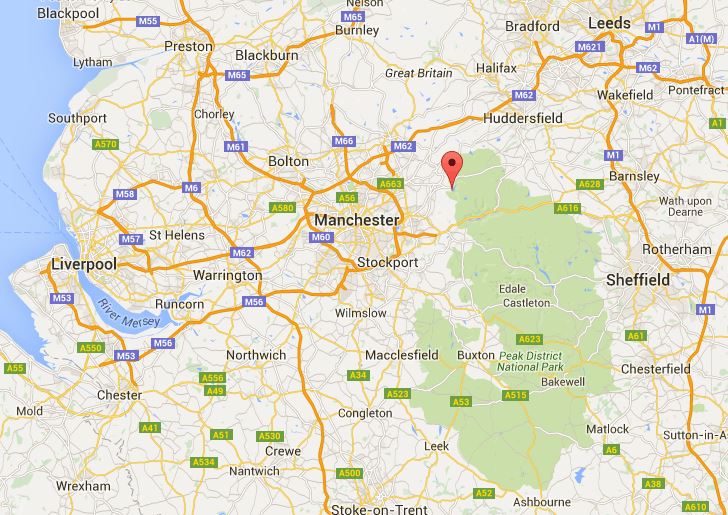 The entrance is situated on Bank Lane off the A635 road about half a mile up from Greenfield, the nearest village. If approaching by vehicle from the Yorkshire, Holmfirth side there is no left turn allowed and you should continue down to the roundabout at the Clarence Pub then go back uphill to gain access.
There is a charge for car parking here and Binn Green Picnic Site  (£1.80 all day or 60p for 3 hours) but parking is free to RSPB members and Blue Badge holders.
Toilets at Dove Stone include a disabled access toilet (RADAR key required) Binn Green toilets do not have a dedicated disabled access toilet but it is possible to fit a wheelchair in either.
The area can become exceptionally busy, especially at weekends, and in good weather. The car park fills up early morning (often before 10.00hrs). Even during the midweek, it can still be busy with visitors. Despite recent reports, parking has been very difficult for many decades.  At the time of this revision in June 2018, a private security company has been contracted and there are now Marshalls to deal with parking and anti-social behaviour.  
Nearest bus service is the 180 from Manchester which terminates at the Clarence Pub about half a mile away.
The nearest railway station is at Greenfield about two miles away.
Another car park is situated at Binn Green Picnic Site which is about half a mile further up the A635 from Bank Lane.
Please see REGIONAL MAP under the MAPS tag.