Please note: this is a website update copied from a script I am working on for a book about the DARK PEAK. 
MYSTERY BODY ON THE MOOR
 'NEIL DOVESTONES'
THE DISCOVERY 
Torrential rain hammered across a steep-sided moorland valley on a bitingly cold day early on Saturday morning of the 12th December 2015. A cyclist, Stuart Crowther, breathless from the steep climb up a reservoir service road, came across a man's body at the side of the road on a grassy patch. The body was lying parallel to the track facing downhill, on his back with his hands folded across his chest looking at peace. Little could Stuart imagine that his discovery was to set off a chain of events that could equal an Agatha Christie mystery.
The police received a call at 10.47hrs stating a deceased man, aged around his late sixties, had been found at a remote location about 700 metres below Chew Reservoir which is situated on a vast, moorland plateau and at 1,600 feet and was once the highest constructed reservoir in England. It is in an area known popularly known as Dovestones which is in Saddleworth and part of the Peak District National Park. Access to this service road is freely available to walkers and cyclists but is locked against any unauthorised vehicles.
Oldham Mountain Rescue Team were called out, and a volunteer thought the man might have had a heart attack. However, when the police arrived Detective Sergeant John Coleman saw the body, he immediately thought there was something different.
"It appeared to me that the male had sat down and taken the conscious decision to lie backwards."
After examining the body, which was described as a male in his late sixties/early seventies,  about six feet tall, slim build, with receding grey hair, and a large nose, the police found that he had no identification of any sort. He only possessed train tickets, £130 cash in £10 notes and a small cardboard tablet container. It was, however, the train tickets which gave the police a clue to mapping out the deceased man's last route and how he arrived at this wild location.
Det Sgt Coleman, pieced together that the man had begun his rail journey at 09.04hrs  11th December at Ealing Broadway station in West London. From there he arrived at Euston station and at 09.50hrs purchased a return ticket to Manchester Piccadilly station. The purchasing of a return ticket was slightly odd but as it only cost £1 more expensive than a single journey ticket it wasn't considered a significant factor, especially when more facts became known later. All the tickets were paid for with cash. He was spotted on CCTV arriving in Manchester at 12.07hrs.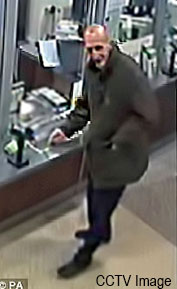 At Manchester Piccadilly, he was seen visiting various shops.  He leaves the station at about 13.00hrs to walk towards the city centre. Nothing then is known of his journey until he arrives at Greenfield and visits the Clarence Pub at 14.00hrs where he asks for directions. The landlord, Melvyn Robinson: "He just came in and asked for directions to the top of the mountain." Melvyn took him to the front door where he pointed out the directions again and told him there wouldn't be enough daylight to get there and back before dark. The mystery man thanked him again, and he set off towards the hills. The last sighting of him was at approximately at 16.00 when he passes two RSPB staff, but apparently, nothing was said.
The birds-eye view below shows the route of the mystery man.  From the Clarence Pub to where he was found is approximately two and a half miles. The second image shows a photograph of the Dovestone area.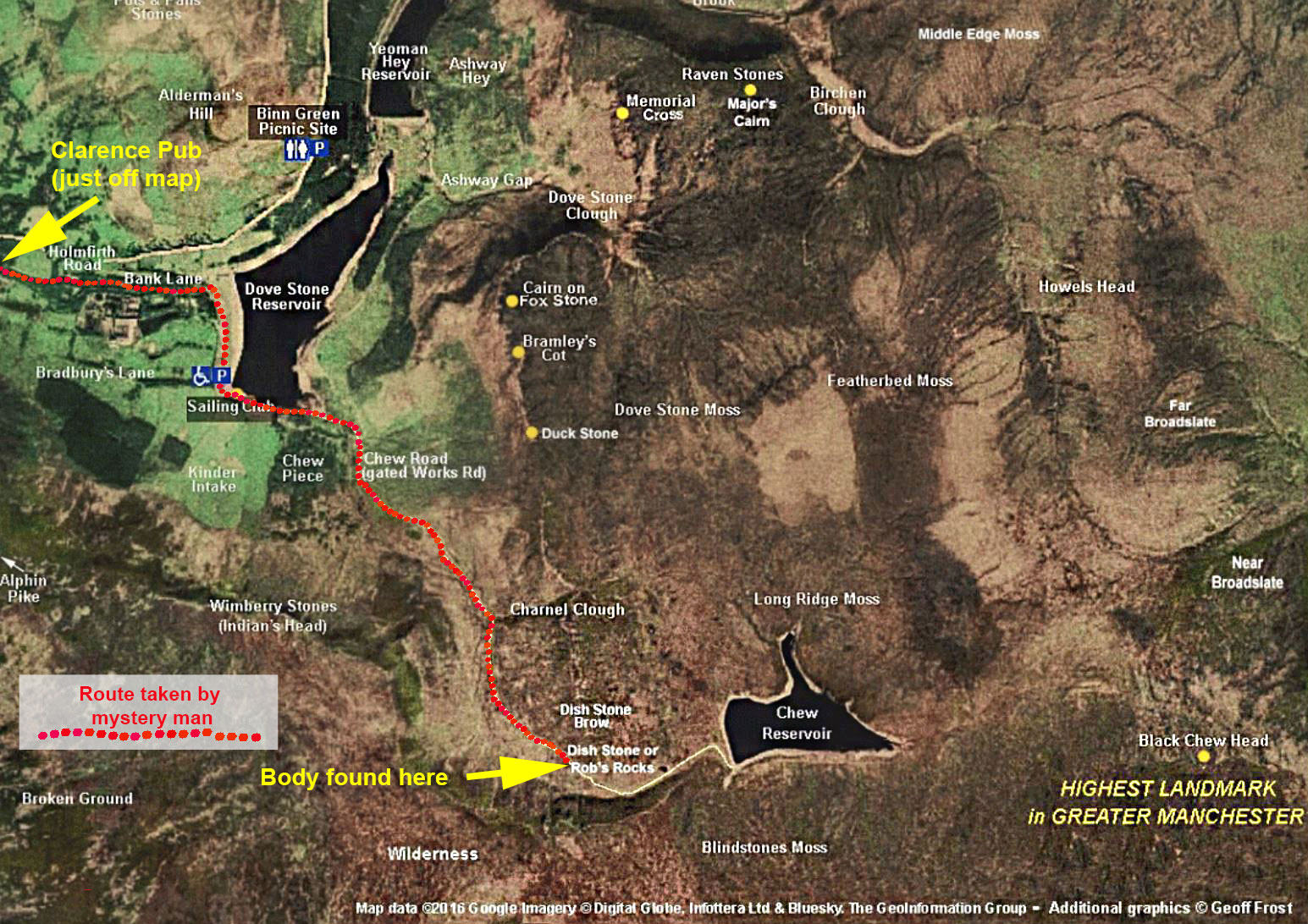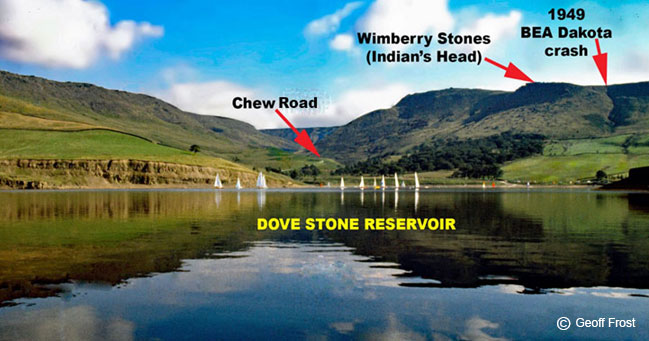 EARLY INVESTIGATIONS
WHO IS HE? 
The first thing to establish was the man's identity. As stated, the only things on his person that might give a clue at this stage were the railway tickets. The Greater Manchester police travelled to London and met with the Metropolitan Police where they discussed things such as whether he came from the Ealing area (his first railway journey being from Ealing Broadway). They visited establishments he might visit, bearing in mind his age; GP surgeries, dentists, barbers, residential homes, health services, etc. The police visited all these places, but nobody knew him, and there were no further clues as to who he might be. Was it more likely that he came from somewhere else and not from Ealing?
Posters and general media coverage also didn't bring forward anybody who knew him. Police then pieced together the route he took from Ealing Broadway station to where he eventually was found. With the UK not only having more CCTV cameras than the world's biggest dictatorship, China, it also has more cameras per person than anywhere else on the planet, so there was a good chance he might be found amongst the hundreds of thousands of images.
In Ealing, there is a CCTV control room where there are about 600 screens showing coverage of numerous locations in that area. The manager, Oliver Martin scanned the footage for December 11th and eventually discovered the missing man on a screen stating 09.03hrs where it showed him walking with a swaggering gait and his hands in his pockets. Once recognised he was seen on eight CCTV cameras and from the manner of his walk he appeared not to know the area very well.
From the place where he was first seen on a camera, Oliver Martin assumed that he might have come from South Ealing station which is an underground station on the Piccadilly line and is only a few stops from Heathrow Airport.
Did he come from abroad after flying into Heathrow?
However, the route from Heathrow to Ealing Broadway would have been a strange way to make a journey into central London. Det Sgt Coleman went to South Ealing to see if he could discover a possible reason why the mystery man chose that route.
There is a well-known phrase in the UK known as Sod's Law, which generally means:  "Whatever can go wrong will go wrong") Det Sgt Coleman encountered this law many times during his investigation:
"You think that you'll be able to track him back on CCTV into South Ealing and there's no CCTV. You go and visit South Ealing train station, thinking he's come through off the Piccadilly Line, and there's no CCTV in working order on that day." 
During these early investigations, Detective Constable Nicola Chapman spent around three and a half days studying CCTV images in Manchester and traced his movements. On his arrival at Piccadilly Station, she said, he didn't appear to really know where he was or what he was doing there. She retraced his route off the platform, across the station concourse to a gambling shop and a slot machine. But he didn't spend much time there, just walking in and out without putting any money in the machines. He then visited Boots, the chemist, but didn't spend any money.  After this, he went to W H Smith, the stationers, but again just walked in and out. He then left the station but only briefly before returning and taking the escalator to Marks & Spencer food shop but still didn't purchase anything. He then spends several minutes generally wandering about eventually returning to Marks & Spencer where he bought a sandwich. After eating his food, he went back down the stairs and to a taxi rank outside the station, but once again returned to inside where he was seen talking with a person at the information desk. Det Con Chapman felt elated about this, but the member of staff couldn't remember talking to him.
This was disappointing, especially as the next period showed the man leaving the station by another exit, crossing the road outside and merging with crowds. This was the last sighting of him until he arrived at the Clarence Pub.
To consider whether the man was from the UK, or elsewhere the police judged his clothing. These were purchased from Marks & Spencer, with the labels being as from the UK. His shoes came from the Swiss luxury brand, Bally. Apart from the railway tickets, cash, and the container, as stated previously, there were no other papers or articles found on him. It was discovered later that the empty cardboard tablet container, although marked as Sodium Thyroxine in both English and Urdu, was actually used to hold the poison strychnine. This poison was banned by the European Union in 2006. Before that, it had been used mainly by mole catchers in the UK. But its historical use has been responsible for many murders and the killing of dogs, cats, and even horses. It is listed as one of the top ten of unpleasant poisons regarding ways to die. It is painful and causes severe convulsions. The police contacted the drug manufacturer, and from the batch number discovered it had been manufactured and distributed in Pakistan.
By now three post-mortems have been carried out on the body.
The first to determine the cause of death which was eventually found to be strychnine poisoning. It also established that he had no life-threatening illnesses.
The second looked in detail at a severe injury on his left leg which proved to be an old fracture that occurred in or before 2013 and required the fitting of a titanium plate to his femur.
Third post-mortem recovered this plate for detailed analysis. It had no batch number that could be identified, but it was stamped with a name – Treu-Dynamic, a company based in Sialkot, Pakistan. The police discovered that these particular plates have been used in only twelve hospitals – all in Pakistan. Det Sgt Coleman pondered whether the deceased was a national or had been a visitor to Pakistan when this operation occurred. The man looked to be white European and didn't have the appearance of coming from the Indian subcontinent. But the clues were pointing to that region.
Further investigation found that the titanium plate had been affixed to the femur bone in a way not typically used by surgeons. Fragments of sutures used were removed from the deep tissue and sent for analysis. A consultation was made with Alister Hart, professor of orthopaedic surgery at University Hospital, London. He stated, "different hospitals adopt different techniques, adopt different suture materials at different times."
X-rays of the leg and plate were sent to the twelve hospitals which were known to use this particular type of plate and also to the Pakistan Orthopedic Association. The hope being that the x-rays can be matched with various patient's records.
GUESSING GAMES
From the beginning of the discovery of the body on Chew Road, numerous theories as to what brought a man from London, about 200 miles away, to die in such a wild, remote place without any real form of identification on his person. Theories began to abound from far and wide. As time passes the guessing and suggestions became global and bizarre to the extreme. In Australia, a news agency even surmised he might be an international spy of all things. Others thought he might have been murdered by his family.
Then, there were various suggestions about a possible Moors Murders connection. This infamous case was in the early 1960s where Ian Brady and Myra Hindley had murdered several children and buried them on the moor. However, this was 3 miles from where the mystery body was found so a connection would be most improbable.
Closer was the site of a significant aircraft crash in 1949 when a BEA Douglas Dakota, on its final leg to Ringway Airport (now Manchester Airport), crashed into a ravine just on top of the moors. 21 passengers and 3 crew were killed, with 8 survivors. But this is about one mile away from where the body was found, and on the other side of the valley. It was suggested that the mystery man might be either a survivor of that crash or whether he might be a family member of somebody who died there. Investigations into that tragedy proved this could not be the case. There are another three aircraft crash sites nearby on the moors, one being closest to where the body had been found, but all these were military aircraft and were discounted as being insignificant. On the other side of the valley from where the body was found, a snow avalanche occurred in 1963 which killed two expert climbers, but it wasn't thought there would be any connection with this.
During the many stages of the inquiry, the police were contacted by around 40 to 50 people enquiring whether the mystery man might be a relative or friend of theirs. A notable one was Sean Toner from Northen Ireland whose father, Hugh Toner, who bore a resemblance to the mystery man, has been missing for more than two decades. Toner, who would now be 78, went missing from a hospital in County Armagh, Northern Ireland, on 7 February 1994 and had not been seen or heard of since.  DNA samples were taken, but there was no match for the mystery man.
Another possible lead came five months after the mystery man had died. Someone contacted Det Sgt Coleman to tell him that their elderly neighbour in Camden matched the description of the mystery man hadn't been seen for over a month, they explained, his front door had been left ajar, and he was known to make frequent trips to Manchester. But he was found alive and well, apparently had just gone walkabout for no apparent reason.
Six months since the discovery of the body, it was still in the mortuary at Royal Oldham Hospital. The two pathology technicians, Rebecca Hales and Julie Berry, felt sad that a body had remained there for such a long time without a name. He was the 42nd unidentified body found in the UK for the year 2015. Rebecca Hales thought it would be nice to give him a name and Julie came up with calling him Neil Dovestones and after agreement with other staff that's the name, he became known by. Julie said Neil was chosen because he looked like a Neil (don't ask) and Dovestones because that was where he was found.
REPORTS FROM ABROAD
The Authorities in Pakistan gave Det Sgt Coleman permission for their national database of fingerprints to be searched to see if there was any match with the body. In Pakistan, fingerprints are recorded of everybody for use on ID cards rather than in the UK where fingerprints are only kept in association with a crime. Sadly, nothing came of this, and no match was found.
The investigation then transferred to Amsterdam where laboratories carried out isotope tests on the hair and bone. This research was new, but there was hope that something might come from it. Apparently, the experiments on the hair and bone can resolve where a person has lived for a period of time and also even where they were born. Later, the isotope tests revealed that David Lytton had travelled considerable distances while living in Pakistan.
A few weeks before the experiments in Amsterdam, excitement was once again raised by a DNA match of somebody in Slovakia. However, this proved not to be the case when an enhanced DNA sample was sent to Slovakia for confirmation. Sod's Law strikes again.
 

BREAKTHROUGH
On the first anniversary of Neil Dovestones' death, the police had a major breakthrough. First, they concentrated on the Ealing area, looking at the train routes and where the people travelled to and from.
Det Sgt Coleman:  "We already knew that this man had an operation in Pakistan in the last 10 years and we started looking into the theory that he could possibly have travelled alone from Pakistan to London Heathrow in the days leading up to his death."
The police then began trawling through hundreds of names of people who had boarded flights from Pakistan to London Heathrow in the days leading up to the 12th December 2015. And this time fortune smiled. Amongst the hundreds of names on the flights, one stood out, and a passport photo of this particular man was obtained. Although the passport photo was old, it looked to be right.
CCTV footage from Lahore airport showed the man bearing a close resemblance to Neil Dovesones, boarding a flight and later arriving at Heathrow airport at 15.30hrs on the 10th December. At last that part of the mystery was solved but more remained.
It wasn't easy tracking down his mother but once found she gave a DNA test and it was confirmed that he was David Lytton, who was born on the 21st April 1948 making him 67 yrs, old when he died on that lonely moorland track. He was initially known as David Keith Lautenberg but changed his name after a fallout with his family. He is survived by his mother, now living in a London care home, and a younger brother, Jeremy (Lawton) who hadn't spoken to him in the last ten years.
In 1901, his mother's family, originally from Poland and of Jewish descent came to England after fleeing Europe and settled in the London area. During his mature years, David Lytton had worked as a croupier and as a tube driver on London Underground. He also had a partner, a former nurse, Maureen Toogood a white British lady who he met in 1968 and was in a relationship with her for almost 35 years.
She described meeting him for the first time when aged 25 she collapsed in the street; "Hang on, hang on, I'll come and get you," he shouted, and came running over to her. Maureen says he was a gentleman, very kind, and thoughtful but was somewhat strange and very much a loner. She said they had an unusual partnership and lived apart from each other as David prefers his own space.
Maureen; "He didn't have a bed but had a piece of foam about one and a half inches thick and six feet long." He told her that he wasn't entitled to comforts, but she didn't know any more about why he thought that.
In the 1980s Maureen became pregnant with his child, and they were both "very happy".  But the joy was short-lived as Maureen had a miscarriage after four months.
During the inquest of David's death, Maureen read out a statement to the court:
"In the 1980s I fell pregnant with David's child. He was very attentive to me, he was over the moon on hearing the news, we were aware it was a baby girl I believed we would get married and our lives would be very different." The pregnancy was not planned, but we were both so happy. Tragically, I miscarried. However, David struggled to cope … he became withdrawn and quiet, and I don't think things were ever the same with us after that."
The relationship continued until October 2006, but then he disappeared suddenly, after kissing her goodbye. David met a close friend, Salim Akhtar and they travelled together to Pakistan. Over the next ten years, Maureen heard nothing about David, no phone call, no letter – nothing at all. She did, however, keep in touch with David's mother at her care home and it was David's mother who told her that the police wanted to speak with her in 2016.
It was in early December 2015 in Pakistan that David, panic-stricken, because his visa was about to run out, walked into a travel agent and requested a one-way ticket to London. While in Pakistan he had lived in Lahore but kept himself to himself. He didn't work, considering himself as retired and was often seen reading books. After breaking his leg in a fall, his neighbour looked after him. Hospital records (recovered by the police) show there was a confrontation of some kind. David had been in trouble with the police and was detained for several days over his visa.
Unable to speak Urdu he came back later with two Pakistani men and obtained the ticket. On the 15th December 2015, after flying from Pakistan, he was met in London by his friend Samil Akhtar who took David together with a suitcase weighing 18kg, to Travelodge in Ealing. He paid for five nights but only stayed overnight and the next day left for Manchester – where this mystery began.
David's funeral took place on Sunday 26th February 2017 at Prestwich cemetery in Manchester. It was attended by his brother and some of the police involved in the case, mainly Det Sgt John Coleman and colleagues who had worked so hard on this incredible case.
INQUEST
The inquest was held at Heywood, (Manchester)  Coroner's Court on the afternoon of the 14th March 2017. The coroner, Simon Nelson said,  "… fundamental questions remain unanswered over his death, but parts of his life that remained a mystery up until now were laid bare. Coroner Nelson also said he was satisfied there was no third party involvement in Lytton's death and that he had taken the poison "by his own hand". An open verdict was recorded.
After the inquest, David Lytton's brother Jeremy Lawton spoke of various things. He said that when David left home following a family row, he couldn't get close to his brother and David never came back to the family. He was vehement that David wasn't suicidal and wouldn't have taken his own life. Asked about the strychnine, he said possibly David had been taking it recreationally and had developed a high tolerance to the poison. He added that his brother had serious heart disease, so the steep walk up Chew track in such atrocious weather wouldn't have been pleasant and possibly David had used the strychnine to help him get up there. Asked how he had missed the massive publicity during the last year in trying to identify him, Jeremy said, "I am a newsaholic (sic), and the whole thing has passed me by for a year." He said that David would have loathed all this publicity and that he was a very private guy. (Just a small error from Jeremy – a newsaholic would have been an avid reader of news rather than what he meant as in not reading news) 
COMMENTS
This remarkable mystery brought much speculation from all over the world especially during the year when no identity had been established. Here are some outstanding issues some of which will probably never be solved together with some questions which I have received from various sources.
Why did David Lytton travel all that way from Pakistan to such a lonely, wild place which apparently had no bearing on his life whatsoever?
How did he travel from Manchester to the Clarence pub in Greenfield? Probably by taxi as it is too far to walk that distance given the times and a bus is unlikely.
Did he actually reach the summit at Chew Reservoir and was on his way down? This is unlikely as the track becomes much steeper and harder walking near to the top.
Why didn't the RSPB members speak to him or at least report the incident to the authorities such as the police, National Park Ranger or Oldham Mountain Rescue Team, when they reached habitation? It is highly unusual to see somebody dressed as he was in such conditions making a way uphill towards the top of the moors at that time of day in December and should have formed a suspicion of potential harm.
Why no identifying material on his body?
Why hasn't his suitcase been found?
Why take one of the ten most unpleasant poisons to end his life (although being a coroner's open-verdict it hasn't been confirmed that was what he intended). And why wasn't his body found in a contorted state as often happens after death from taking this poison? According to the reports, he was lying down with his head staring upwards, and his arms crossed over his chest, looking at peace. This might be partly answered by his brother who suggested David might have been using the poison as a recreational drug and had developed some immunity to it. Also, although his head was looking upwards, it was apparently slightly arched, and his arms across his chest might have been clutching his chest rather than doing so as in the act of being at peace.
His brother stated that David had a serious heart condition yet the post-mortem found no life-threatening conditions and his death was caused by strychnine poisoning.
Many of these things will probably never be known. It is remarkably sad for such a highly intelligent, loner type of person to die in such a lonely place. Then, how do any of us know that was the way he wanted it?
It is not wholly unusual for such things to happen. There have been several suicides and accidents in the Chew area but none with this sort of mystery.
The Saddleworth area, in general, has developed an unfair notorious reputation, mainly because of the dreadful Moors Murders. This is unfortunate because much of the region is stunning with some beautiful vistas, rocky outcrops and incredible open moors for peace and recreation.
The site where David's body was found in winter and in harsh weather is not a particularly pleasant place to be, but in summer with the sun shining, the birds singing and the smell of the countryside, it is for many, heaven on earth.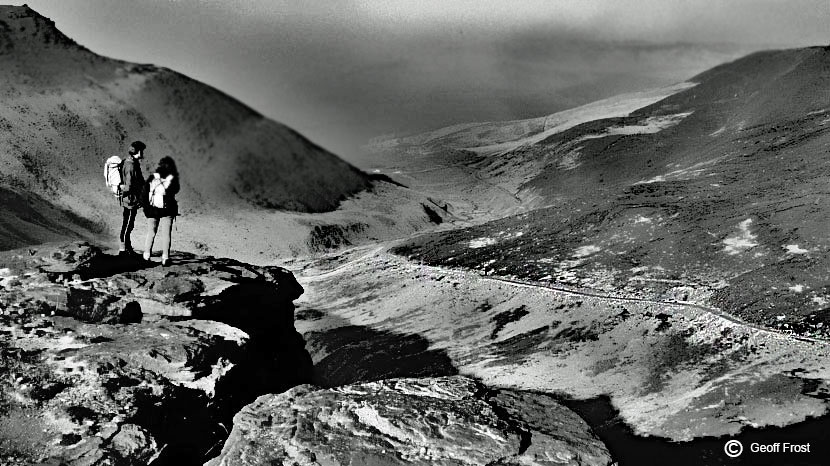 DAVID LYTTON
(aka NEIL DOVESTONES)
REST IN PEACE