The construction of Chew Reservoir meant working in a wild and hostile landscape. Apart from a track (Chew Road) leading to the moors, there was little else here except peat bogs and moorland vegetation. The weather conditions are harsh and the area is often covered in drizzle and hill mist, But the main problem was the total lack of any clay to form the watertight sealant for the dam. Without clay, called 'puddle' there could be no reservoir.
The nearest viable source of puddle clay was in Mossley several miles away and for the vast quantities required (42,318 cubic yards or 32,353 cubic metres) using the public highway to ferry the clay was not really practical.  To solve this problem it was decided to build a tracked tramway (narrow gauge railway) from the clay fields in Mossley all the way to the reservoir construction site. The site began at Micklehurst in Mossley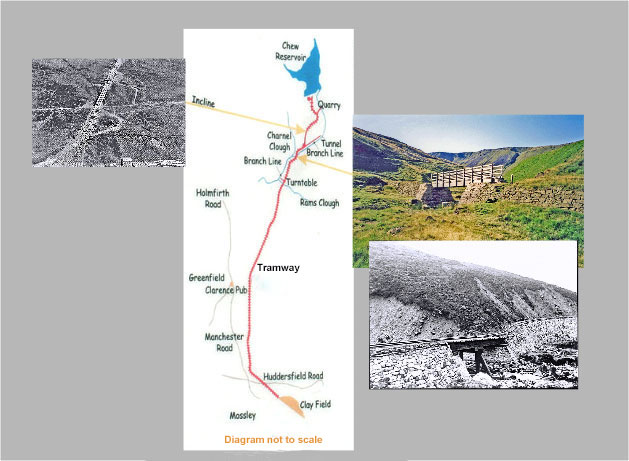 In 1907 a contract for the construction of Chew Reservoir was given to Morrison & Mason Ltd of Glasgow. The tramway was constructed from the main railway sidings and clay pits at Micklehurst to transport the clay and other materials to the site at Chew. The tramway was operated by steam locomotives and was in use until the completion of all works in 1914. From Chew Brook, there was a steep incline, averaging 1 in 4 to get the tramway to the top of the moor at Dish Stone Brow. At this point, the locomotives were raised approximately 500 feet (150 metres) by a fixed steam winch.
At its time, and until 1971, Chew Reservoir in the Dovestone area was the highest manmade reservoir in England at 1,600 feet (488 metres). That title now belongs to the Cow Green Reservoir, Teesdale.