The map shows the main climbing areas but there are also many individual rocks for 'bouldering' scattered around.
The quarry next to Dovestone rocks is where the Peregrines nest and climbing is forbidden during that time. The rock is also very unstable and rockfalls are possible at any time. I have seen a massive chunk of rock break away on a still, bright day in summer for no apparent reason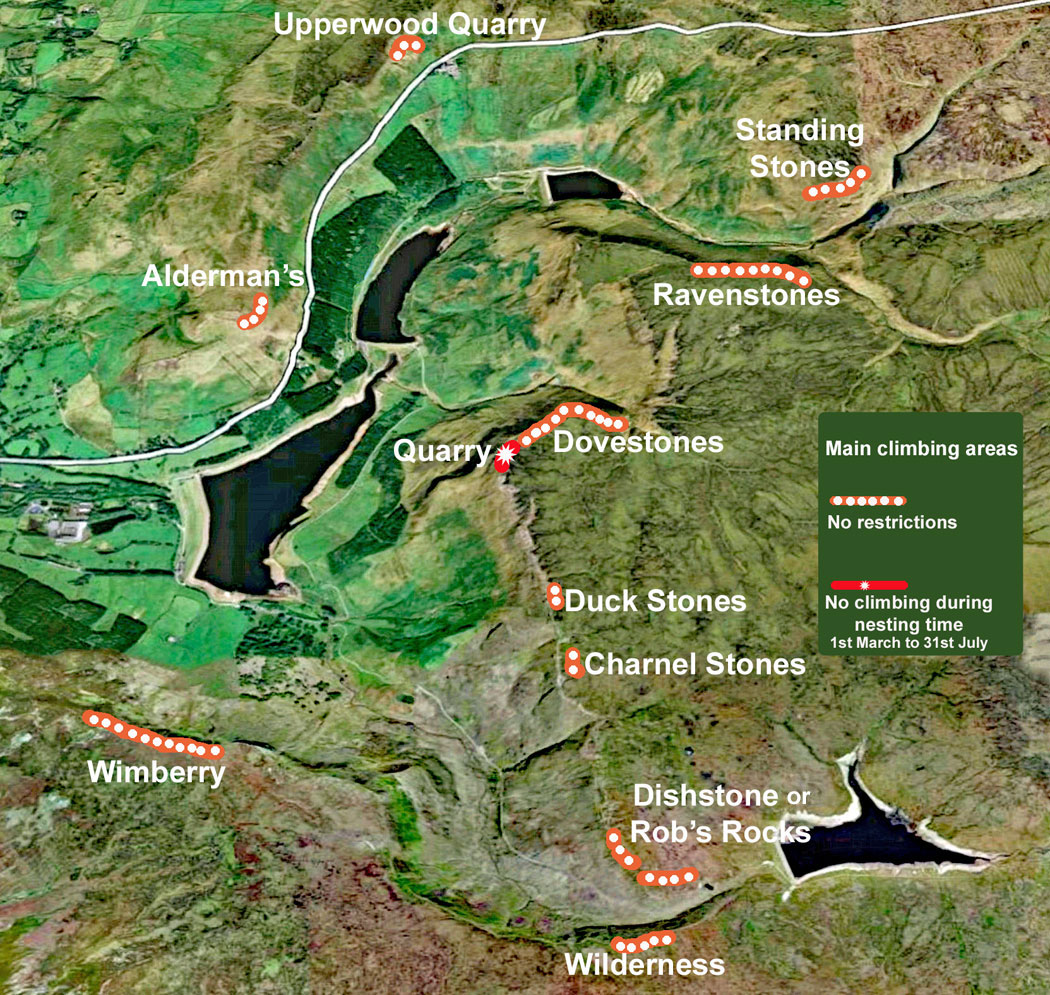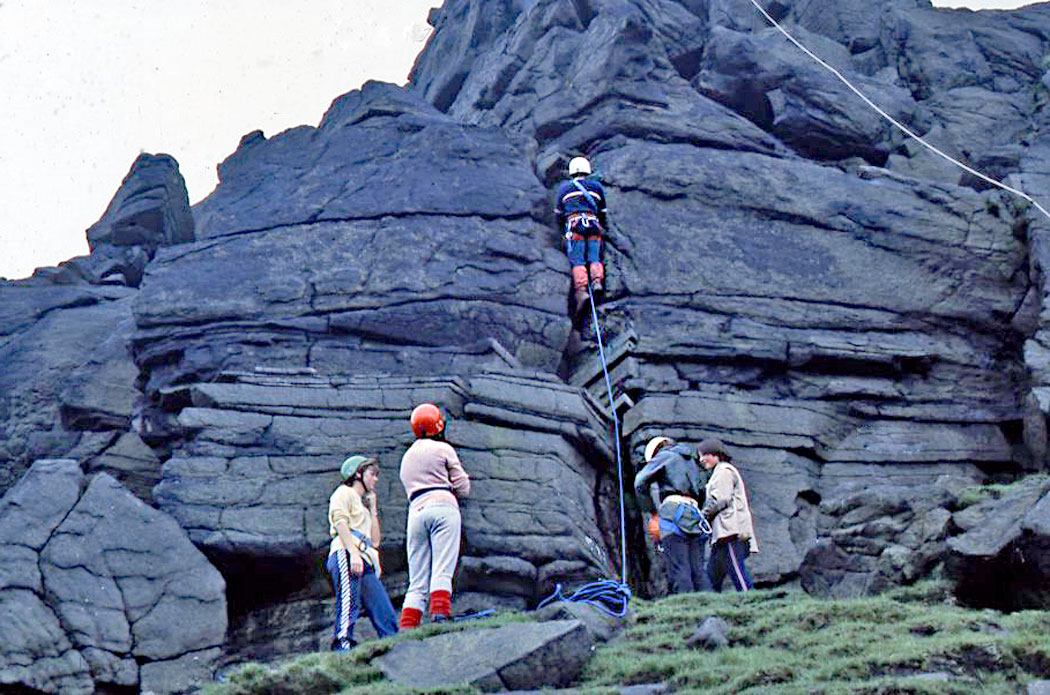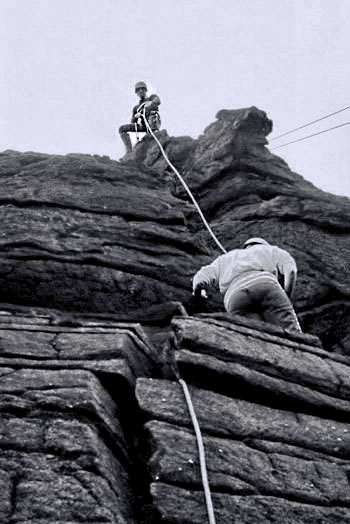 The climbing is on millstone grit and offers excellent adventure for beginner to experts, albeit the crags require at first the effort of walking to reach them. These are not the gymnastic sites of the Peak District where one steps out of a car and, after an easy stroll, arrive at a rock face. But for climbers who want a bit more than the current trend, some of these traditional crags are unsurpassed for thrills and the feeling of isolation.
Many climbing icons honed their skills in this area. In the early 1900s, the area was the preserve of gamekeepers and such but some intrepid climbers began to explore the region. J W Puttrell and Lehmann Oppenheimer put up the first routes at Robinson's (Rob's) Rocks in 1903. Later, many climbers ignored the Chew Valley as they made their way, past Chew reservoir, to Laddow Rocks in Longdendale, which was considered a superior climbing crag.
The area began to be explored much more in the 1940s, 1950s, and 1960s with names such as Eric Byne, Joe Brown, Don Willans (The Villain), Jim Perrin, Slim Sorrell, and many more iconic climbers established routes throughout the area. One notable climber in the area was Graham West who, together with his friend Michael Roberts was tragically killed in a massive snow avalanche at the Wilderness East Gully in the Chew Valley,  see 1960s AVALANCHE tag. Later still, notable climbers like the Greenfield Boys, Paul Brathwaite, Tony Howard, Paul Seddon, Barry Kershaw and many more distinguished names frequented these crags. Local climbers, Brian Toase and Tom Morton were killed while climbing in the Italian Dolomites and a plaque commemorating them is affixed to the Fox Stone.
Snippet:

In the late 1970s I was a member of the Glossop Mountain Rescue Team. One afternoon I was called out to assist in the recovery of a body found at the base of Yellowslacks, a rock outcrop on Bleaklow. When I arrived at Glossop police station (the base for the Glossop rescue team) I was told by a police officer that the body had been found early in the morning by a climber. He had travelled from Sheffield to do some lone routes and made the discovery. Apparently, he pondered that as the man was already dead there was no rush to alert the authorities which would then spoil his day. So he commenced climbing and carried on until midday when, on his way home, he decided to alert the police about the body. Such is the determination of climbers to climb.